Oct 11, 2021 / by Katrin Douverne / In Allgemein / Leave a comment
The American acting icon Helen Hayes already knew: "You learn to love, laugh and walk from your parents. But it is only when you come into contact with books that you discover that you have wings. "However, not all children have the same qualifications for their school life. But for all children, especially after the pandemic, reading enhances cognitive skills, emotional and social skills, contributing to a happy, healthy life.
Dr. Friederike Herbst-Baus is a passionate pediatrician on the market square in Schwalbach. "Especially for families with little money or with little knowledge of the German language, the extracurricular support for the next generation is often particularly difficult". This is where the CHOM Capital and Kindertaler project comes in.
Read the whole press release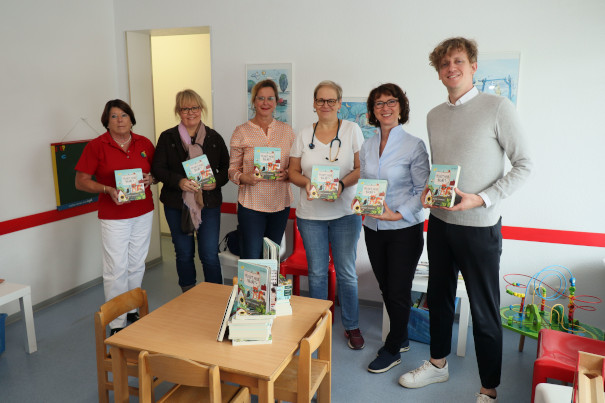 When handing over the book donation in the doctor's office: Katrin Behrens, Monika Schwarz and Dr. Friederike Herbst-Baus (Kindertaler), as well as Benedikt Kirsch and Martina Neske (CHOM CAPITAL) and the children's book author Outi Kaden